Whether you are together with family or celebrating via Zoom, there are fun ways you can celebrate turkey day this year! Try one of these fun games with your family and maybe you'll create a new tradition for years to come.
1 – A Thanksgiving Scavenger Hunt – Get the family searching both inside and outside for a list of items and have a whole lot of fun while you search!
2 – Color the table! Ditch the standard table cloth and opt for one you can color. Buy one at your local party store or create your own with craft paper and a sharpie.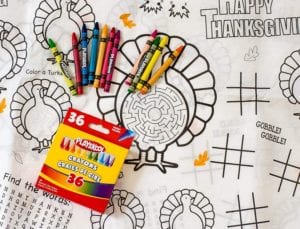 3 – Act it out! You don't have to be face to face with your family to play Thanksgiving charades. Try these free printable cards from readwritemom.com!