Adding colorful annuals to your porch or balcony area is good for the soul! Creating a beautiful outdoor space will give you both a fun project and also a pretty place to relax at the end of a long day. Not sure where to start? All you need to remember are three words….thriller, filler and spiller! In order to create a beautiful potted arrangement you'll need one of each.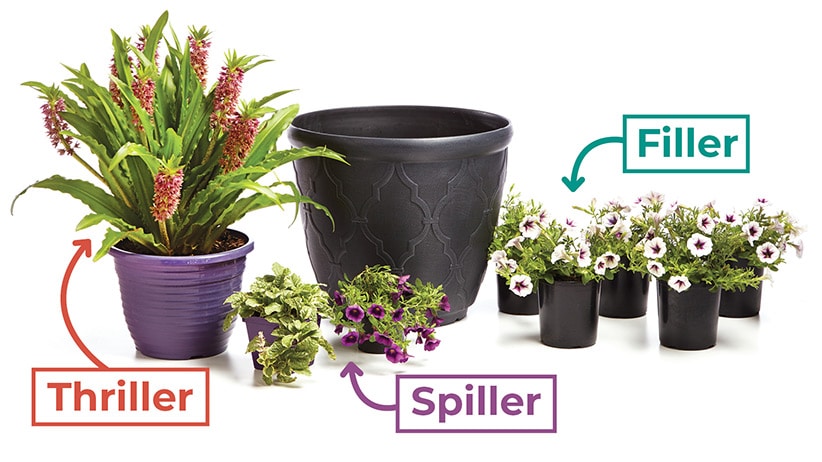 1 – Thrillers are the showpiece of your arrangement. A palm tree, a tall tropical flower or a really colorful plant are all thrillers. They're usually taller than the other plants and give your pots a real "pop" of excitement.
2 – Fillers are flowers or plants that are of medium height. They have more rounded, mounding habits and spread to fill in the gap between your thrillers and your spillers.
3 – Spillers are flowers or plants that will move and drape over the sides of your pots as they grow. They usually add great foliage and color to your pots as well.
Have you created your outdoor pots this year? Post them on Facebook or Instagram and tag us so we can see! Happy spring!
Summer brings longer days and evenings outdoors. There's nothing that can ruin a summer cookout more than the itching and scratching of mosquito bites! If you're planning to spend time outside after dusk, try putting these plants in your garden to keep the bugs away…
1 – Lavender – Not only does it look beautiful, it smells great too! Another thing that lavender does is hinder a mosquito's ability to smell. The leaves of this plant have natural oils that will keep your garden smelling fresh and the pesky bugs away.
2 – Marigolds – These annuals add beautiful color to your garden and they also deter mosquitoes, aphids, white flies, and squash bugs.
3 – Citronella Grass – Most people have heard of citronella candles but did you know that you can plant citronella grass directly in your garden? This plant is known as the most effective at repelling pests and is low maintenance. A must-have for your outdoor space!
4 – Rosemary – Rosemary is an herb that many of us are very familiar with, especially with cooking. Rosemary's woody scent is what keeps mosquitoes as well as some moths and flies away.
5 – Basil – Another herb we use in our cooking, basil is also great at keeping mosquitoes and other bugs away. The pungent smell of any type of basil is powerful to keep mosquitoes from entering your space. Try planting some in pots on your patio and you can also use some for preparing dinner!
When warm weather finally arrives we are all eager to spend more time outside. Unfortunately the boost in temps also brings everyone's least favorite pests…..mosquitoes!  This year, try keeping them away by planting these in your pots, planters and gardens.
Citronella
Catnip
Rosemary
Marigolds
Lavender
Basil