Sometimes staying in is just as fun as going out! If you've decided to stay in this year, here are 5 at home Valentine date ideas to try with the whole family.
1 – Movie Marathon. Everybody gets to choose their favorite movie (bonus if it is a love story). Spend the day watching the movies and eating fun, Valentine snacks together.
2 – Cooking Dinner Together. There are many at-home meal delivery services these days. Try ordering dinner for the family and sharing the task of preparing the meal.
3 – Decorating Treats. Whether its cupcakes or cookies, the whole family will have fun decorating some festive desserts together.
4 – Making Homemade Valentines. There is nothing better than a homemade card. Grab the art supplies and put your creative hats on to make valentines for each other.
5 – Play Valentine Bingo. You can download a fun version of Valentine bingo here. Instead of using the typical bingo markers, use conversation hearts to give it a fun, Valentine touch.
6 – Make a Valentine Playlist. Add everyone's favorite love songs and play it all day on Valentine's Day!
7 – Wear Matching Festive, Pajamas. Many stores are offering festive, Valentine pajamas for the whole family. Get warm, and cozy together in matching pjs this year.
8 – Drink Valentine Hot Chocolate. Pickup some cocoa bombs at the store or make yours festive by adding whipped cream and sprinkles.
However you choose to spend Valentine's Day this year we hope you have a wonderful time together!
September is here and that means back to school! Whether you are a student, teacher or parent, going back to school can be a big change. Make the transition back to school easier in your house with these helpful tips…
1 – Move bedtimes up. We all get in the habit of staying up late during the summer. Now that September is here it's important to establish a better bedtime routine (especially for kids). Move bedtime up by at least 30 minutes.
2 – Keep a calendar. Everyone has busy schedules in the fall with school, sports, clubs and activities. Keep a printed calendar of all of these weekday events.
3 – Make a kitchen command center. This is a great place to put your calendar and schedule for everyone to see. Keep hanging file folders or shelves nearby to keep important documents that the kids will need for school. (Think medical documents, permission slips, teacher's contact information etc.)
4 – Meal prep. If you're back to packing lunches it's a great idea to meal prep on Sunday to be prepared for the week. This will save you tons of time in the morning when you're trying to get out the door on time.
5 – Get caught up on laundry. There's nothing worse than having nothing to wear while you're running late in the morning. Take time to catch up on laundry so everyone in the house has what they need during the week clean and read to wear.
Whether you are together with family or celebrating via Zoom, there are fun ways you can celebrate turkey day this year! Try one of these fun games with your family and maybe you'll create a new tradition for years to come.
1 – A Thanksgiving Scavenger Hunt – Get the family searching both inside and outside for a list of items and have a whole lot of fun while you search!
2 – Color the table! Ditch the standard table cloth and opt for one you can color. Buy one at your local party store or create your own with craft paper and a sharpie.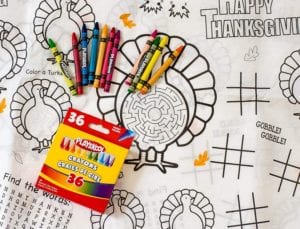 3 – Act it out! You don't have to be face to face with your family to play Thanksgiving charades. Try these free printable cards from readwritemom.com!